Hampshire Hospitals and Winchester MP welcome successful return of cancer services to Royal Hampshire County Hospital
This week Hampshire Hospitals NHS Foundation Trust were pleased to welcome local MP Steve Brine on a visit to mark the successful return of the cancer services team to Royal Hampshire County Hospital, following a temporary move because of the COVID-19 pandemic.
As part of the trust's response to COVID-19, significant changes to services were required to enable the safe treatment and management of vulnerable patients; with cancer and infusion services identified as having especially high numbers of such patients.
In order to safely continue to care for this group in a COVID-free environment, the service first moved to the BMI hospital at Sarum Road, Winchester. Secondly, as part of the COVID recovery plan the service was then relocated to Basingstoke and North Hampshire Hospital while essential works were undertaken at Winchester to ensure the very highest infection control measures could be applied for the long term.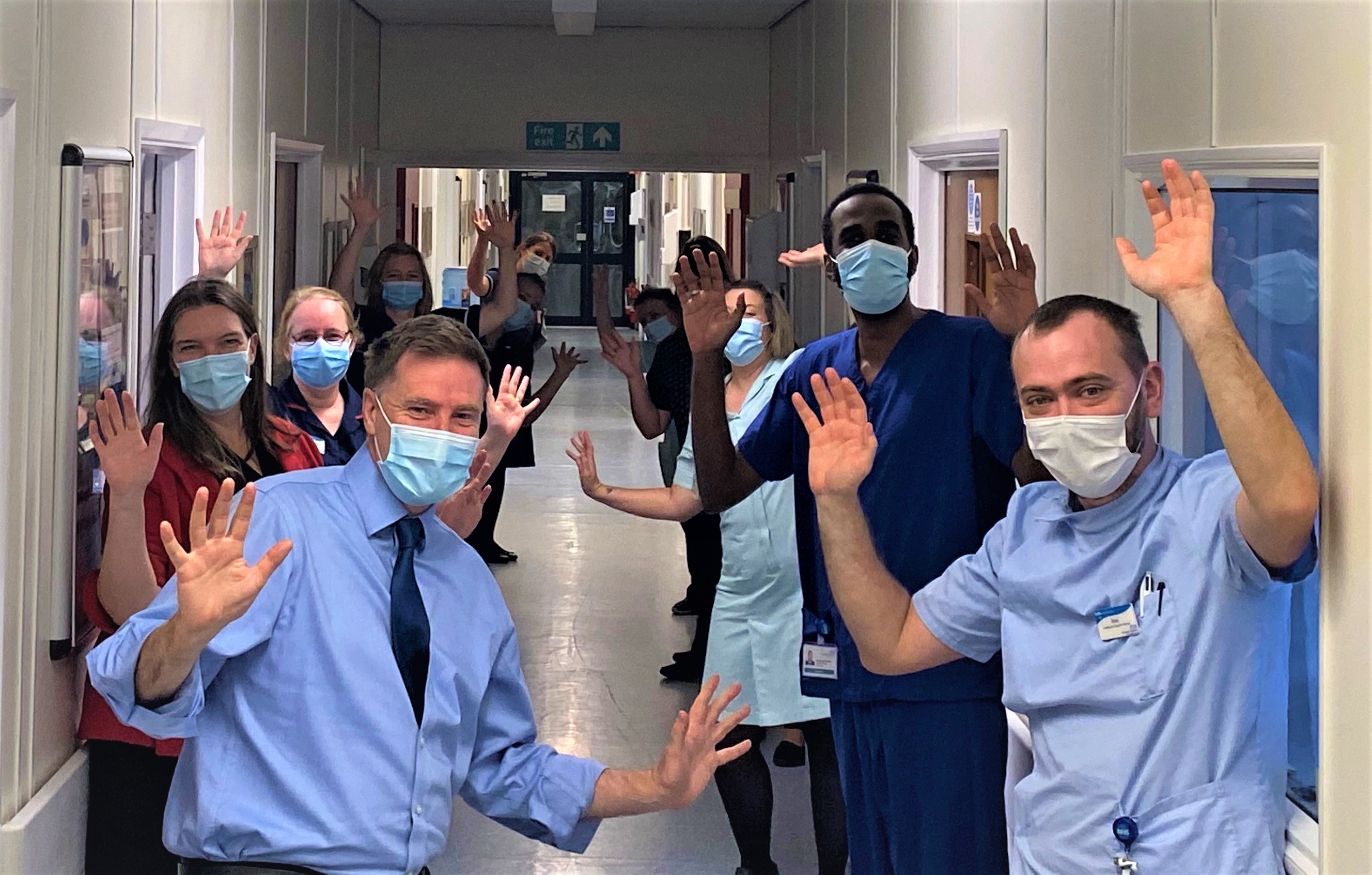 Following further review, the completion of these works and the continued hard work of the cancer services team, it has been determined that they can now move back home to the Royal Hampshire.
Alex Whitfield, chief executive at HHFT, said: "We are delighted that cancer services are returning to Royal Hampshire County Hospital following temporary moves as a result of the pandemic.
"The flexibility and resilience shown by all, enabled us to continue to deliver these vital services to patients at Sarum Road throughout the COVID-19 pandemic. The feedback from patients has been very positive and supportive of the way in which these services continued to be provided through such a difficult period."
Alex also noted the on-going impact of COVID-19 and the continuing efforts to keep patients safe:
"COVID-19 is not over and is never far from our minds. It continues to change how we work and, as such, not everything is moving at once. Some patients will continue to need to travel to other sites for care as we gradually move things back to Winchester. We know how important it is to patients that they can access safe, high quality services close to where they live, and it is great news that our cancer teams have moved back into the Royal Hampshire County Hospital."
Steve Brine, Member of Parliament for Winchester, who visited the team to welcome them 'home' added:
"The trust had to move cancer servicers out of the Royal Hampshire, and it was key to keeping this lifesaving work ongoing during the pandemic. However, there was anxiety about whether they would return, and I know everyone is extremely pleased that this has happened exactly as envisaged and as promised."