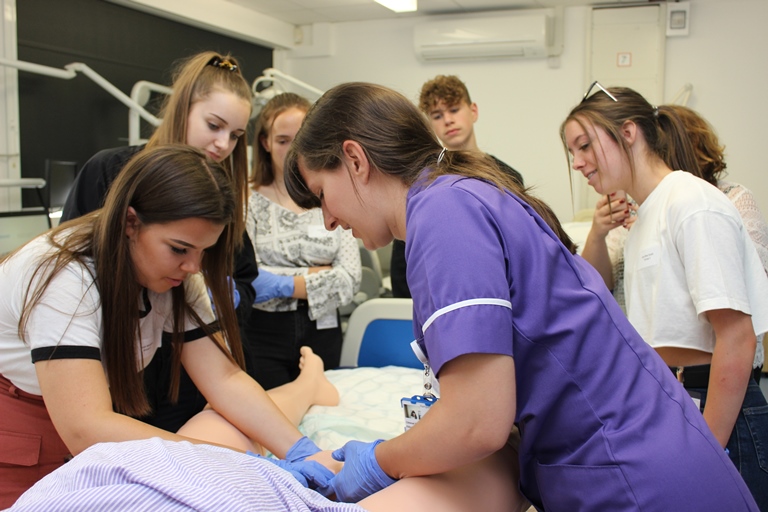 Pupils swapped their classroom for a clinical education suite when they visited Royal Hampshire County Hospital to learn about a career in the NHS.
The group of 14 and 15-year-old pupils from Wildern School in Hedge End spent the day with the clinical skills team at Hampshire Hospitals NHS Foundation Trust, giving them an insight into working in healthcare and the opportunity to think about what careers are available to them in the NHS.
Interactive sessions included testing out their CPR skills and learning how to save a life, helping to deliver a baby thanks to a high-tech simulation manikin and catheterising a dummy patient.
The students also learned about hand hygiene and how far bugs could travel, after which the pupils were all put to the test on how well they cleaned their hands. The team also showed them how to don surgical gloves without contamination, and the student with the least contaminated gloves won a prize.
As well as the hands-on learning, staff from across Hampshire Hospitals all delivered short talks on their career within the NHS, as well as the future opportunities that could be available to them in the NHS. Talks were given by a range of clinical and non-clinical staff to demonstrate the variety of roles available.
A show of hands at the end of the visit highlighted that the day had sparked interest in working for the NHS, with it being high on the list of possible careers for many of the pupils.
Assistant head teacher, Sally Wheeler, said: "It's been an incredibly informative and unique experience for the students, and it's been lovely to see them all engage with the workshops and have opportunities they wouldn't usually have access to. It's a great opportunity for students to experience the diversity of roles within the NHS, and we want to say a big thank you to Hampshire Hospitals for such a wonderful day."
The day showcased the benefits of simulation-based learning, which is frequently used to train staff from all three sites of Hampshire Hospitals. This form of training allows staff to practice real-life clinical situations, in a safe environment where skills can be perfected without the possibility of causing harm.
Andi Bullard, clinical skills lead for Hampshire Hospitals NHS Foundation Trust, which runs Winchester hospital, as well as hospitals in Andover and Basingstoke, set up the day. She said: "Our role in education is not just nurturing, supporting and developing existing healthcare professionals, it's also about reaching out to future generations that will become the NHS staff of tomorrow.
"The whole team loved the day and we hope to put on more educational events like this in the future. A huge thank you to everyone who helped on the day, including the many members of our HHFT team who inspired the pupils with their own career journeys."